Zombie Diary 2: Evolution
1.2.2
Zombie Game – Kill All the Zombies
If shooting down zombies is a fun exercise for you then you will find this zombie game to your liking. Zombie Diary 2: Evolution is a fun game in which you get to kill zombies using a variety of different weapons before they hack you down. It lets you take out zombie after zombie as you try to rescue survivors and reach useful supplies before the walking dead get to them. In this quest, you will be aided by an arsenal of guns and weapons that can annihilate even the most stubborn zombie with consummate ease. Your job is to keep on shooting and fighting until the very end and take out as many zombies as you can while accomplishing your mission.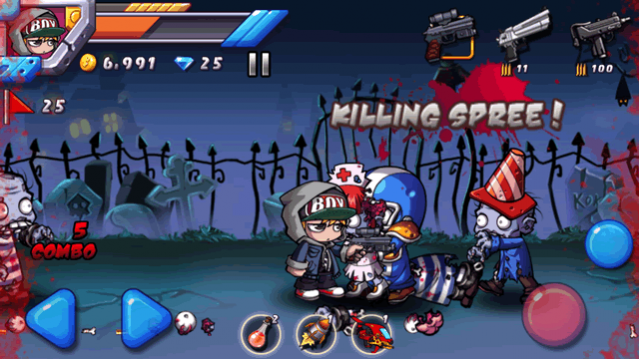 Zombie Diary 2: Evolution has user-friendly gameplay which becomes addictive the more you play the game. The graphics are nice and show the gore and horror in full detail. However, the controls of this zombie game are by far its best feature. This game is very simple to play. You are offered two arrow buttons at the bottom-left corner of the screen. These buttons are for moving your character to the left or right respectively. You also have a shoot button provided on the screen's bottom-right corner, which allows you to shoot your equipped weapon. There is an exchange button available just above the shoot button which can be used for switching the weapon you are using for killing the zombies.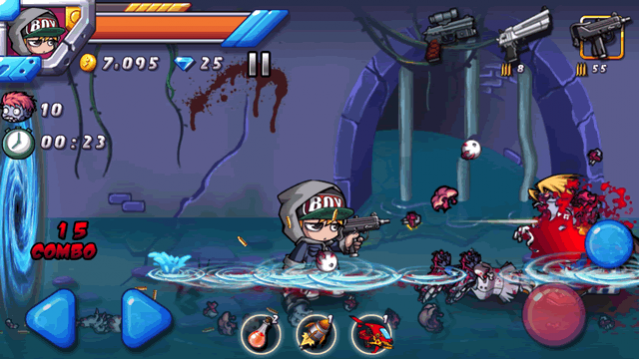 In this zombie game, you have limited health to play with. The health bar is shown at the top-left corner of the screen. You can regain your health by drinking health potions which are sometimes awarded while playing the game. Moreover, you can buy them from the game's shop section too. Aside from health potions, there are shields available too which can help you in withstanding more damage from the zombies. If you find yourself in a pinch with low ammunition and lots of zombies to deal with, you can call in an air strike or get the help of a mecha device. Both these supports can be purchased from the shop just like shields and health potions. However, these supports are costly and shouldn't be wasted.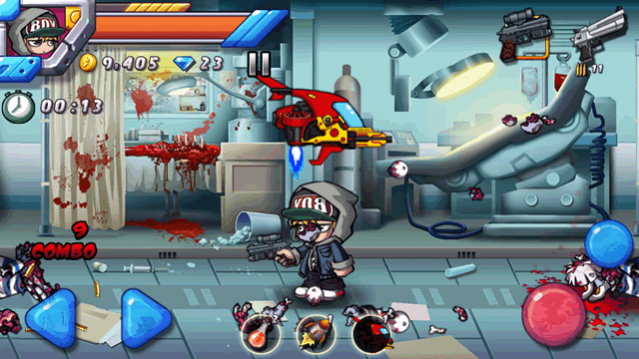 Zombie Diary 2: Evolution lets you play with a wide range of characters whose skills can be boosted to make them efficient at killing zombies. There are various powerful guns available to you which can help you take out zombies of all types in a few shots. However, most of these guns are locked at the start of the game. You can unlock them by purchasing them using in-game money. Each gun in this zombie game has varying levels of power, fire-rate and critical damage. You can upgrade them by spending in-game money, which can be earned by completing daily tasks, achievements and the missions assigned to you.
Features:
Lots of weapons for killing zombies
A wide range of missions with varying goals
Option available for upgrading your weapons
Different characters to play with
Upgrade the skills of your characters
Equip various equipment to give your character an edge
Get the help of mecha devices to help you out during battle
A large variety of zombies to deal with
Various maps on which to fight zombie hordes
Complete different daily tasks
Earn rewards for unlocking achievements
Conclusion:
Zombie Diary 2: Evolution is a gaming app which is marketed towards people who have an interest in playing shooting games. It provides you the opportunity to kill hordes upon hordes of zombies as you try to survive the zombie apocalypse and rescue as many survivors as you can. It is an excellent zombie game to have on your phone for sure.
---
Add a review
Tell us your experience with
Zombie Diary 2: Evolution
1.2.2
RELATED PROGRAMS
Our Recommendations
---
---
---
---